THE COVET LIST † No. 2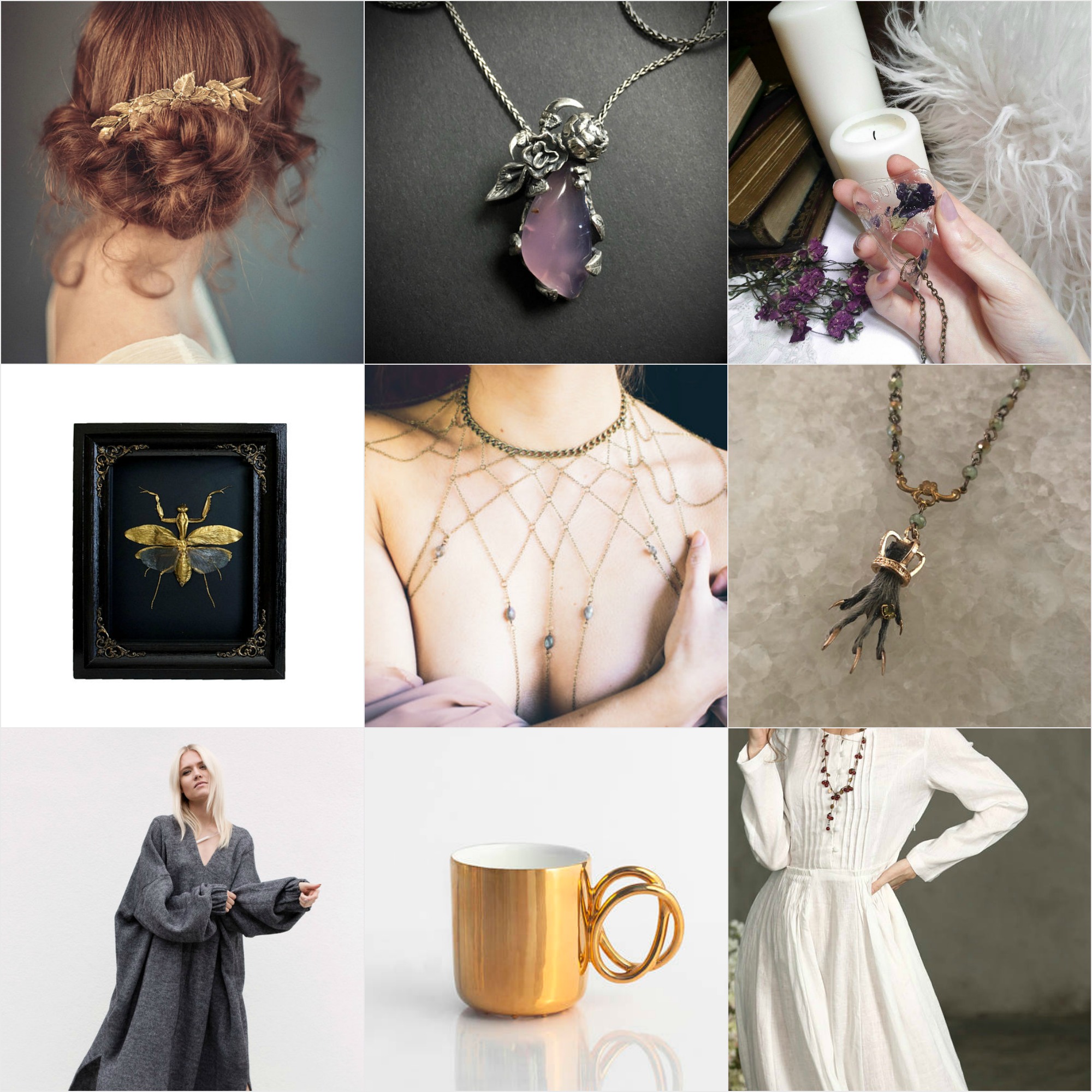 Yes, it's time for another Covet List, a list of all of the things I find around the internet that are gorgeous, wonderful, sinfully beautiful, and, sometimes, a little on the indulgent side.
This time around, and probably the next time around if we're being honest, I found all of the wonderful items on this list through Etsy, and no that isn't some kind of exaltation of Etsy as a company. Etsy is only great because it has a massive community of some of the most creative people out there, a community filled with hardworking artists and creators that put out amazing, well-made items, and they deserve to have their stuff shared here and everywhere else.
I—uh—I'll get down off my soapbox now.
Here's the list.
This lattice body chain drapes over the wearer's shoulders and down their chest and back, creating the stunning effect pictured here.
Created by Amy Fox, Iron Oxide features both delicate and rough, raw design elements that make every piece visually balanced.
You can find Iron Oxide creations at the etsy shop or at Altar, which is co-owned by Amy Fox. You can find the store at www.altarpdx.com.
On Instagram, you can find Altar @Altarpdx, and you can find Iron Oxide @ironoxidedesigns.
These handmade ceramics hail from Poland, where they are made by the very talented people at ENDE Ceramics.
This modern piece is painted using real gold and measures in at 5".
Minimalist, modern, but still cozy, this design from ATUKO is made using a mohair and lamb woolblend.
This dress/tunic has drop shoulders and a deep v cut around the neck, both front and back.
Measuring in at only 4.5cm long, this truly tiny curiosity from Mythic Articulations depicts Cerberus as a skeleton and comes with a very nice little dome.
Though no bigger than a minute, this piece would add a lot to any curio cabinet, shelf, or desk space.
This hair comb from Floral Jewellery, features golden leaves and strategically placed pearl accents.
The beautiful hair pieces at Floral Jewellery are created with weddings and special occasions in mind, but they are so elegant and just understated enough that I wouldn't hesitate to wear them in my regular day to day life.
All of the specimens used by Tarantula Box die of natural causes, and, in death, they are transformed into ornate pieces of art.
The framed mantis, pictured here, measures in at 11" x 9". The frame is handmade and one of a kind.
There are so many other beautiful pieces created by the husband and wife team behind Tarantula Box, Sergei and Yulia, and I highly recommend you go and check those out as well.
Made with your choice of red, pink, or ivory roses, blue mallow, hibiscus, or lavender, this botanical necklace from Wicked Samael has a unique gothic, earthy vibe that I really love.
The handmade resin pendant comes on a copper chain.
Simple and feminine, this linen dress features pleating and a pin-tucked waist.
There really isn't too much I can say about this dress because it is so simple (though beautiful), but there is something about this dress and about Camelliatune in general that I would like to comment on.
A lot of times, smaller clothing brands have the standard sizes and that's it. It's like if you're plus-sized, too bad. However, I am really impressed that Camelliatune starts at an XS and goes up to 3X. That alone is enough to make me want to support this lovely company.
SECRET GARDEN PENDANT // LSD Jewellery // $369
This whimsical necklace from LSD Jewellery features purple chalcedony, a rather rare stone from East Java, in an intricately hand-carved setting.
It's the small details, such as the stamen on the flower and striations on the back of the pendant, making it appear as wood, that make this necklace so wonderful.
LITERALLY, EVERYTHING IN THEIR SHOP // PURGATORY PLAYTHINGS // $12 - $225
Purgatory Playthings is a current obsession of mine, and I like to go to their Etsy every day and just sort of stare wistfully at my screen.
There is a macabre beauty to every piece, and with the use of gemstones, gold, brass, and glass reliquaries, the owner and artist, Kaitland Axelrood, creates this wonderful Byzantine feel.
And though the jewelry is bold (I mean wearing a jawbone necklace is certainly a power move) there is still a kind of downplayed simplicity to the pieces that makes them eye-catching as opposed to being eyesores.
Taxidermy and bones in jewelry is by no means new, but there is certainly something quite special about the jewelry found at Purgatory Playthings.